After finding Admiral Wilhelm Canaris during my research for the Sturmtaucher Trilogy, and realising he would be perfect as one of General Erich Kästner's oldest friends, and a close confidant, I delved deeply into the controversial and secretive character's life. I'm not sure I ever got near to finding the real Canaris, but I wrote him pretty much as history recorded him, taking one or two minor liberties to fit in with my fictional stories – I had him a little jollier than the real-life Canaris, who was reported by his staff to be 'often taciturn'.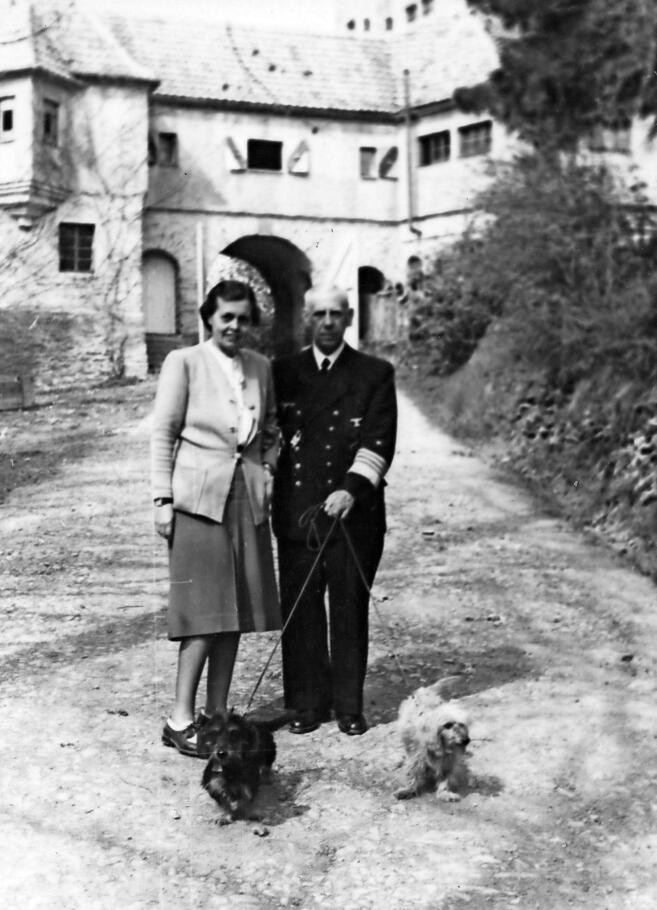 One of the items I found during my research was a translation of a letter written by his wife, Erika, after the war, to General Donovan, chief of the OSS, the precursor to the CIA, and a man who Canaris had dealings with leading up to the war, and during the war itself. General Donovan also was a significant player in the Nuremberg War Crime Trials. In her letter, she strives to make sure that her husband's name is cleared of any of the heinous crimes the National Socialists had inflicted on Germany, and on the people of Europe.
Here's the first page of the translated document, from Cornell University's digital collection: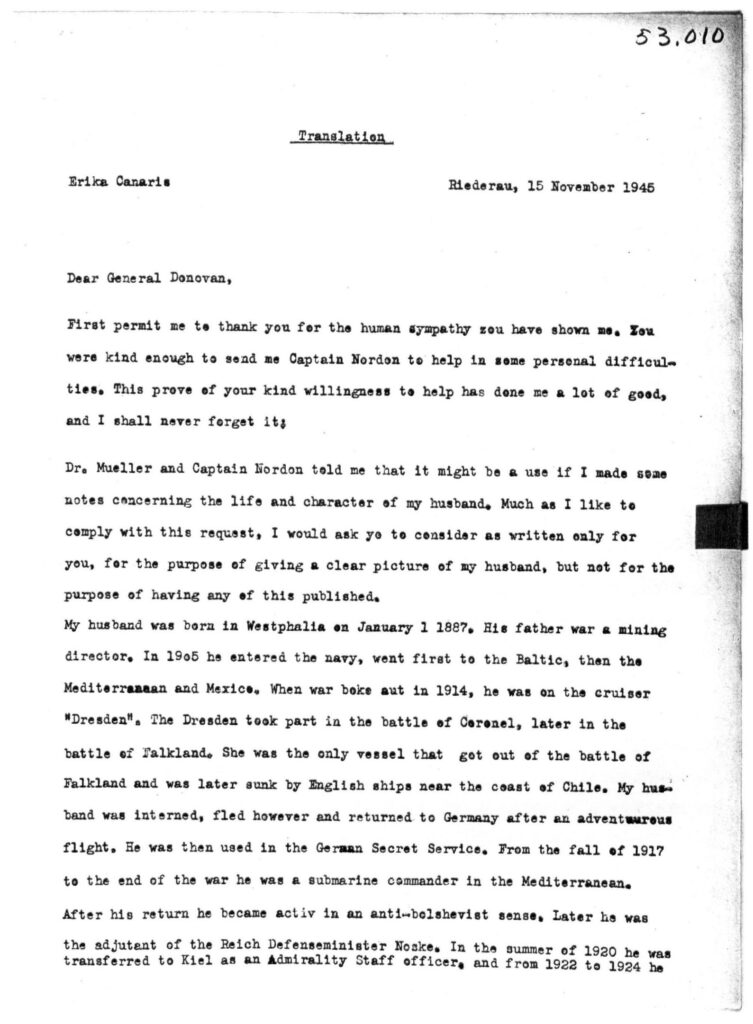 You can read the whole letter here, but in it she gives a brief précis of his life, including his endless desire to help people, no matter their circumstance. She also states that she knew of his involvement in the July 20 plot, the failed attempt to assassinate Adolf Hitler, but for me the most telling statement she made was about his increasing dismay at what the Nazis were doing to Germany's future. She wrote:
After he saw the first bombardment of Warsaw by the German Luftwaffe he [Canaris] returned home, deeply shaken, and said: "If there is justice, and I believe there is, we will go through the same thing. And then God save us." He also said: " We are all guilty, all, and we will all have to pay for it.
She finishes the letter with a plea that General Donovan, and history, should think well of her husband.
If I have told you all this, I have done it only for the sake of my husband, in order to show him to you in the proper light, and also, perhaps, in order to convince you, General Donovan, that my husband, together with those who thought and lived as he did, represented the decent Germany, which always existed and which will always exist,
With kindest regards, and renewed thanks, I am
Erika Canaris
It is worth downloading and reading the letter. From my research, it does seem to sum up the character of Admiral Wilhelm Canaris.
And you'll see why I made him Erich Kästner's friend.